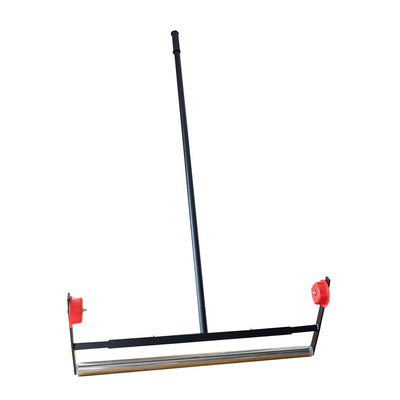 24" to 36" Adjustable Carpet Film Protection Applicator
Original price
$149.99
-
Original price
$149.99
Carpet Film Protection Applicator, a convenient and efficient tool designed to make the process of applying carpet film protection quick and hassle-free. This innovative applicator features an ergonomic design, with a comfortable grip handle that minimizes fatigue during use. It comes with an adjustable width feature, allowing for customization to fit different carpet sizes, ensuring precise and uniform application. The high-quality roller ensures a smooth and even distribution of the film, reducing air bubbles and creases for a flawless finish. With its quick-release system, changing the film roll is effortless, saving you valuable time. The sturdy construction and compatibility with various types of carpet films make this applicator a reliable choice for residential, commercial, and professional settings. Protect your carpets efficiently with our Carpet Film Protection Applicator.
Our Carpet Film Protection Applicator offers numerous benefits for both homeowners and professionals. With its time-saving features, you can cover large areas quickly and focus on other important tasks. The applicator ensures a cost-effective solution by providing consistent and professional results, reducing film wastage and the need for reapplication. Its convenient and mess-free operation eliminates the hassle of manually unrolling and placing the film, keeping it taut and evenly adhered to the carpet. The applicator enhances carpet protection by shielding against dirt, stains, spills, and foot traffic, preserving the carpet's pristine condition. Achieve a professional finish with seamless application, eliminating issues like unevenness and air bubbles. Upgrade your carpet protection process with our reliable and user-friendly Carpet Film Protection Applicator.


Compatible: 24", 30", and 36" Carpet Film Protection
Feature: Adjustable Bars
Core: Changeable 1.5" and 3"