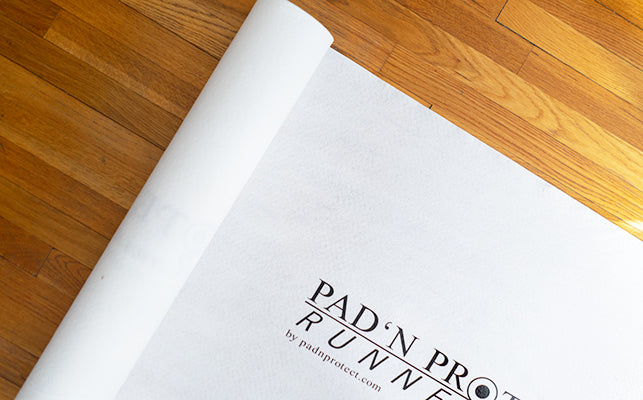 What Is PadNProtect Runner And How To Use It?
High Quality Surface Protection for Construction
Residential contractors know the importance of not only completing a remodel, but also completing it perfectly. They are held to a high standard of not only the final product but also the build process along the way. With over 20 years in luxury home construction, Pad'N Protect Founder understands the importance of getting the job done right the first time.
What is Pad'N Protect?
Pad'N Protect runner is a revolutionary multi-surface protection. This easy-to-use runner features advanced protective abilities that other products on the market cannot match. Pad'N Protect runner is a uniquely designed reusable product that provides protection to wood floors, tile, metal, glass, and other surfaces. Pad'N Protect runner is completely paint and waterproof and features anti-slip technology while also being tear-proof.
Easy to Use
Pad'N Protect runner is an easy-to-use cost-efficient surface protectant. The adhesive underlining will not leave any residue that requires cleaning and can easily be used multiple times. Pad'N Protect runner is the perfect size to fit through most standard door frames and it's lightweight makes it effortless to transport.  The cushioned, tear-proof and water-proof surface prevent paint spills from becoming disastrous. Its white coloring makes it easy to maintain a clean bright work environment.
Instructions for advanced protection using Pad'N Protect
Proper use of Pad'N Protect runner is essential in keeping your home clean and protected from costly damages.
Properly wipe down all surfaces - starting with a clean surface allows Pad'N Protect runner to stick accordingly. Be sure your area is well swept before laying Pad'N Protect runner down.

Overlap Pad'N Protect Runner seams - our team has found that when the edges of Pad'N Protect runner are overlapped with the next layer, the protective layers are able to prevent more dust and dirt particles from getting under the protection. For the most durable surface taping all seams is recommended.

Roll it up- you can use it again! Once you're done roll it back up and the Pad'N Protect runner and you're good to go!


Odd shapes are no problem- stairs or over the counter down the sides of cabinets works great! Need just little mat size? No problem just cut a small section and use that!
Protection during Kitchen Remodel
The kitchen is the heart of any home both big and small. This is why kitchens are the most popular room to remodel. In your kitchen you have a variety of surfaces from stone and glass to wood and metal. How do you protect floors, kitchen cabinets and appliances during construction?  You need an easy and durable way to protect all those surfaces with peace of mind. 
Multi-surface Pad' N Protect runner features a highly flexible and easy to apply design that will wrap around corners and bulky appliances. You worked hard on designing your dream kitchen, you want to protect it from scratches and dents. Pad'N Protect runner can help you avoid costly repairs and loss of time during the construction process. Protecting your flooring can help you to avoid costly accidental repairs.
Whether you are a contractor or DIY'er looking to tackle your kitchen remodel yourself, Pad'N Protect runner is the best way to protect floors, kitchen cabinets and countertops during kitchen remodel.
Safety for Bathroom Remodels
Bathroom remodels are the second most popular room to remodel in a home. Bathroom remodels pose a unique set of safety requirements when remodeling. Bathroom tiles can often be slippery and easy to scratch with simple tools. Mirrored and glass surfaces require little pressure to crack and scratch. These scratches can be unsightly and may require replacement, you can avoid this with proper protection before starting your bathroom remodel.
Pad'N Protect runner features a unique adhesive technology that allows it to stick to surfaces without the use of taping. This prevents dust from being trapped underneath like typical protective liners. When dirt and debris become trapped under floor liners, they can be crushed and easily scratch surfaces. The smallest dust and dirt particles can damage glass, tile and mirrored surfaces. This adhesive technology also prevents slips and falls during construction.
Safeguard your floor during Move-In/Move-Out
Moving furniture into your new home should be done with care.  Apart from avoiding damage to your prized possessions, you also want to ensure that your new flooring and surfaces are both clean and avoid damage. Pad'N Protect runner is impact and puncture resistant while also working great on wood and other smooth surfaces. In addition to surface protection, using a combination of sticky mats at the door ways and shoe covers are an easy and economical way to keep floors free of damage during a move.
Pad'N Protect runner also offers an anti-slip surface that creates a stable and safe surface for you to move bulky furniture. Then non-skid surface causes the runner to stay in place. Unlike moving tarps, other protective films or cardboard, Pad'N Protect runner has an adhesive surface which prevents it from moving. This extra layer of protection prevents your floor from being scratched from dust and dirt.
High End Protection for Everyone
High End home builders such as Mueller Homes and  Calvis Wyant understand the importance of not only a safe work environment but also a clean space that provides protection. For many, your home is an investment in yourself and your family. We want to help you protect that investment by providing you a high quality surface protectant that is easy to clean, maintain and utilize.
After spending 20+ years in luxury construction builds and remodels, our founder set out to provide high quality protective equipment that would be accessible to both high-end contractors and first time do-it-yourself individuals. Luxury Remodelers like Sleeping Dog Properties are a step above because they use high quality products in not only their build process but also in their protective equipment. This is what our founder set out to achieve; luxury protection at an affordable price point that is accessible to everyone.
You can purchase Pad'N Protect runner online or request a sample from us online. We stand by what we claim and want to show you how Pad'N Protect can help you.  
First time customer discounts, special deals or bulk discount call us at 833-900-1712 or email.